Time changes things. It makes what was new old and what was old new again.
This is true in art, chemistry, literature, fashion and even the stock market.
Then we look at the business arena. In this arena, time is the sole criterion for success.
Yet how many companies are there that have been successful in the long run?
How many startups think about it from day one and plan to stay around for 100 years or more?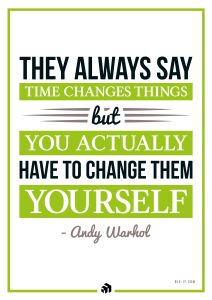 There aren't any. Why? Because if they did they would be thinking about changing their organization as times changed. They would be planning on building in failure at launch and surviving it AND having a process in place to handle that change.
We can go all way back to Enron and see how fast things change in just 15-20 years and what happens when you don't have processes put in place to handle these types of changes – you fail spectacularly, immediately and completely! We can talk about Kodak and watch them fail in a matter of years to the emergence and dominance of digital photography – without even really trying. And then you have Nokia as another example of how an entire industry can be wiped out overnight by one single thing: smartphones!
You could also look at Blockbuster which was wiped out by streaming Netflix – again, without even really trying.
Can you imagine that? An entire business with millions upon millions of revenue from subscriptions just gone in a flash with the emergence and popularity of something new. The same is happening all over again right now with iTunes, CDs, DVD's etc being replaced or becoming less popular because we are using internet streaming for music and movie content.
So, change happens, whether you like it or not. But to survive, YOU must change things. No one else is going to do that work for you.
I'm not talking about something small either – I'm talking about a complete overhaul of your business, market and even product and service offerings.
What would it take for us to totally change everything we know about marketing? What would it take for us to revolutionize the entire way we sell our products and services? How can you completely redesign every aspect of how your customers consume what you offer?
You need to think big! And then BIGGER. Because thinking bigger ALWAYS beats thinking smaller in any situation or scenario – especially when dealing with innovation. The new world will be built by those who are willing to question the status quo over those who accept it without hesitation. So, if you are the former, then time is on your side and it will help you gain an advantage that can't be competed with.
It's easy to say that "this is what we do" or "this is how our clients buy or consume products." But have you really thought about WHY they purchase now? Do they need to? Are there ways you could change things so instead of buying they subscribe? Instead of consuming content aren't there ways you could deliver it for them automatically whenever they want it (think Netflix)? Instead of selling a product, couldn't you build trust AND sell access to a community instead?
Food for thought, maybe.