As a business, it can be difficult to make the right decisions. It can be challenging to even identify all the options. If you're a business owner, you're distracted by competing priorities. If you're a corporate board member, you've faced issues like bad data and difficult relationships. In either case, pointless meetings are a norm that doesn't seem to push your business to any new heights.
The reality is that businesses can sometimes be giant, floating leviathans. They're hard to steer in the right direction due to chaotic priorities and complicated processes. But these symptoms are tell-tale signs that a business isn't living up to its potential.
Today's most successful businesses are capable of responding to changes very fast. Compared to the leviathan businesses, the most successful and innovative ones are nimble like fighter jets.
In this post, we tackle the challenges of being nimble, head-on. Let's look at some myths about corporate innovation so you can survive disruptive changes that could otherwise sink your ship.
Innovation is survival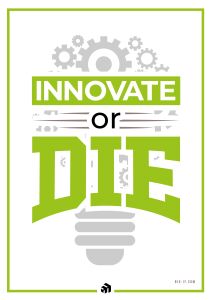 For many businesses, innovation is a matter of life or death. Statistics say that 40-50% of today's Fortune 500 companies won't be around in 10 years. No, we don't propose that they'll take long vacations. They'll be eaten up by one of the most powerful forces in today's business world – change.
In our digitized and technology-intensive world, companies fail by not anticipating industry changes. Kodak failed to predict the impact that smartphones would have on the digital camera market. Sears, once an American retail giant, wasn't able to adapt its business model to keep up with e-commerce. It's now reaching headlines since it's former storefronts are being converted into COVID-19 vaccination centres. A noble cause, but not the legacy that the company intended to leave behind.
Innovation is a lifecycle
It's important to view innovation as a "state of being", rather than a singular goal. You must integrate innovation into your entire business model. You must elevate it from the private desks of a few passionate employees.
Achieving this innovative state of being is not easy. Innovating means to operate complex business machinery that sometimes doesn't play nice. To simplify things, let's break down that complex machinery into three categories:
Internal machinery: innovation sprouts up out of your own internal team meetings and R&D departments. This type of innovation uses existing assets to improve products and services.
Inward and outward operations: innovation happens when you collaborate with others. This can happen with webinars, brainstorming sessions, conferences and workshops. You use shared information from others in your field to explore new avenues.
External machinery: innovation occurs through corporate spending and acquisitions. This is the fast route to innovation. It happens when a larger organisation "buys out" a smaller one. The purchaser then assumes the startup's expertise and technologies. A firm can also buy new technologies or licenses rather than buying out a startup completely.
Innovation is a lifecycle because you must take into account all three types of machinery. Without a balanced approach, predicting changes and growing as a business is impossible.
What is corporate venturing?
One of the most impactful business trends of the last decade comes from the role that startups play in corporate innovation. Startups are relatively small and agile compared to the leviathan corporations that exist on the Fortune 500 list. They are nimble and able to take risks where big companies can't.
The goal of many startups is to build something valuable, sell and exit. The most common exit strategy is to be bought out by a larger organisation.
This fascinating trend has led some experts to suggest that the exciting growth in the number of startups is a result of large companies. Some even say that corporate innovation is dead. They believe that the most powerful engine for innovation is through startup acquisition. It's true – mature organizations provide a stable exit path for new startups. In the innovation lifecycle, this catalyst belongs in the third category that we looked at moments ago – the external machinery. Without the exit path provided by large companies, startups wouldn't exist. They wouldn't advance new technologies or provide disruptive innovations.
Is corporate innovation really dead? We don't necessarily think so. Rather, corporate venturing is an exciting opportunity for companies large and small to take advantage of. Evidence for this unique opportunity exists – studies have found that around 80% of companies want to work with startups. Corporate venturing is one pathway in the lifecycle that savvy businesses need to consider.
To learn more ways that corporate venturing is transforming innovation, check out this report by Novable.
Take the stress out of the equation
Are you inspired by the opportunities that corporate venturing can bring to the innovation table, but not sure where to start?
Innovolo's innovation-as-a-service is a solution that takes the stress out of your decision making. Working with an external innovation team is like going to the grocery store and picking up a pre-packaged meal. It simplifies things and ensures you have a satisfying experience.
Whether you're an owner looking to scale quickly and sell, or a board member in the hunt for a creative way to boost the business, we can help.
Innovolo's innovation-as-a-service package is a simple and low-cost tool. It's the first step toward integrating innovation into your daily business. That way, you can remain competitive and meaningful in today's aggressively-paced business world.