Some very fascinating insights

were gained

when Innovolo attended the Dementia Workshop hosted by EIC and Cadent on Wednesday 6th November
.
We little appreciate the struggles that people with dementia and people caring for people with dementia go through
.
The EIC teamed up with gas network Cadent and the Alzheimer's Society to host the Call 4 Action workshop which aims to discover how innovation in the utilities sector can improve the quality of life and safety of people living with dementia in the UK
. Working closely with the existing Utility Working Group of the government's National Mental Capacity Forum to help identify and sponsor solutions to the challenges.
The workshop took place on the 6th of November in Wembley to contribute to a discussion around the challenges for people living with Dementia plus those caring for them and how the utility sector can address them
.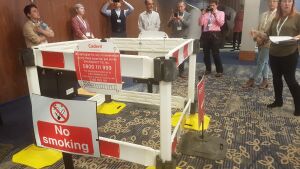 According to the Alzheimer's Society, 1 in 6 people over the age of 80 have dementia, with the total current figure in the UK sitting at 850,000
. This number is set to rise to over 1 million by 2025.
The EIC believes that innovation has the power to change people's lives for the better, and captured many ideas, thoughts and suggestions on how the UK utilities can help people living with dementia
.
The utility sector has a unique opportunity in
being trusted
to be able to access people's homes and see signs of potential trouble emerging
.
The Alzheimer's Society is the UK's leading dementia support and research charity, for anyone affected by any form of dementia in England, Wales and Northern Ireland.
Karl Pallister, Director at Innovolo, said, "The workshop was an amazing opportunity to gather ideas from
a number of
sectors, including utility companies, health authorities and charities, social workers and independent product development companies like Innovolo
.
The opportunity for collaboration
greatly
assisted the efforts to give people living with dementia a better standard of living, especially being able to carry on living
independently
in the safety of their own homes
."
Jo Giles, Customer Safeguarding Manager at Cadent, said, "As providers of vital services, the utilities sector
is committed
to prioritising the needs and protection of people in vulnerable situations
. Our aim is to empower those people to be able to live well and not
be left
behind by an industry that is
rapidly
changing.
The work we are doing with the EIC, starting with the Call 4 Action workshop, is key to understanding how the industry can come together to
facilitate
innovation and make a difference to people living with dementia
."
As an independent product design agency, Innovolo works with brand owners to develop products
.
With our new-found knowledge of the challenges that people living with dementia have, we would be very pleased to explore this avenue with suppliers of equipment that can
be used
to help
.