Our Client, Sugru
Tesa is one of the world's leading manufacturers of technical adhesive tapes and self-adhesive system solutions, with over 7,000 products for industrial and professional customers as well as end consumers. Applications for various industrial sectors – such as the automotive industry, the electronics sector (e.g. smartphones, tablets), printing and paper, building supply, and security concepts – account for 76% of the Group's sales. The remaining sales are made up of 300 products designed for the consumer and craftsmen segment, to make working in the home and the office easier.

One of these is Sugru, a mouldable, flexible glue designed for tool-free, everyday fixing, including like-new invisible repairs, making improvements around the home, indoors and out and for craft projects involving children.
The Challenge
The Sugru team needed additional expertise and support for their R&D work. This area of the business requires specialist and project management expertise, and it was time-consuming to carry out this work for each new project the team were developing. This usually included accredited laboratory procurement services, sourcing of chemical ingredients, creation and review of new product development strategies and the creation of testing and deformulation methodologies.
The Innovolo Solution
ur experienced team at Innovolo work closely with R&D teams across the world to provide them with additional capacity and capability. This support is available through our Innovation-as-a-Service subscription which provides tailored service packages offering our clients access to a wide field of expertise, project management and expedited completion of tasks.
The fully flexible service allows clients to increase the subscription to provide additional capacity for larger projects while keeping costs manageable through fixed monthly costs which are much lower than the monthly salary of just a single research assistant.
The Results
For Sugru we ran a trial monthly subscription on our credits-based self-serve Innovation-as-a-Service option to help the firm work on some of their ongoing projects while testing out our service as a potential long-term solution.
The Sugru team were delighted with the trial period which enabled the team to access exactly the right expertise – including thirteen specialist chemists, chemical engineers, and mechanical engineers without having to go through the lengthy process of recruiting new staff for short-term project requirements.
"We are very pleased to say that Unlimited Innovation-as-a-Service trial month was excellent and a great opportunity for us to understand and review how the arrangements work in practice. The onboarding was very smooth. We have been well supported and provided tailored and flexible input to our projects. This great arrangement allowed us to focus on tasks that only we can do and gave us access to a range of expertise we don't have in-house."

Vivian Christogianni, PhD CChem, New Product Development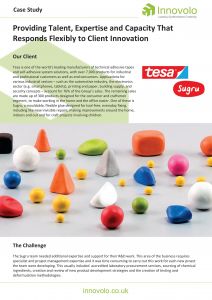 Innovolo's product development process is designed to turn human needs into solution opportunities. To take the complex issues of people and their environments, break them down into a problem statement, explore and quantify potential solutions, and finally hone in on a new product prototype to test.
Our Industrial Designers think beyond the form to envision your success. They contribute to every facet of the innovation process, from idea generation and experience design to product development and brand management.
It's all about creating value and building brands that win.