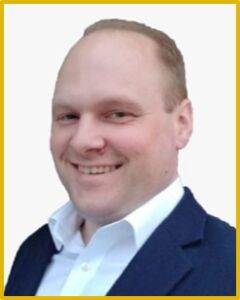 ST AUSTELL, CORNWALL (25 February 2021) – Innovolo Ltd, the global Innovation-as-a-Service provider, today announced the promotion of Clive Saltmarsh to Corporate Services Director.  He will have the primary responsibility for spearheading the retained innovation services offered to R&D teams globally.
"Clive has been a key part of our success, and we are thrilled to promote him to this important position that reflects our strategic growth initiatives as a group," said Robin Pallister, Managing Director of Innovolo.  "We have huge growth plans for the coming few years, and we are confident that Clive will be an important asset to help our organisation reach its goals."
Mr Saltmarsh, based in Washington, Tyne and Wear, joined the company in 2019 as Client Consultant and quickly rose to the challenges faced by clients on a daily basis.  He brings with him extensive experience in a wide spectrum of industries, and is an integral part of Innovolo's 'Dream Team' of creative misfits.
About Innovolo Ltd: 
As part of the Big IF Group, Innovolo Ltd is on a mission to accelerate product development for R&D teams globally using its proprietary Innovolation Framework™.  It has won numerous awards for its innovative approach to product development, R&D, and innovation.
For more information about Innovolo Ltd, visit its website at https://innovolo.co.uk